Factory IO Download – a 3D factory simulation software for learning automation technologies.  Factory I/O supported the driver to connect to the device from Allen-Bradley, Schneider, Siemens and other devices using Modbus, OPC… This post, 365evn shows you: How to connect PLC Siemens S7 200 SMART to Factory I/O via Ethernet cable.  
Download Factory IO – 3D Factory Simulation Software
You can download Factory I/O software at the end of the post. And then install it on Windows. Factory_IO helps you easy to use the software by supplying documentation and tutorial. You can refer to it on the home screen of the software.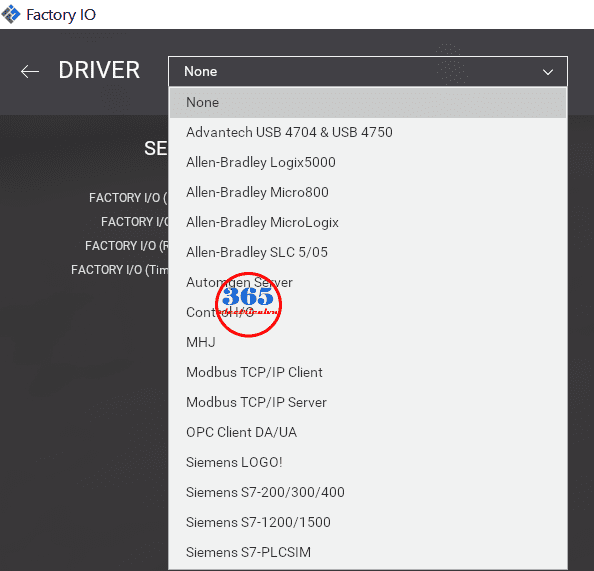 Could be helpful for you:
Connect S7-200 SMART PLC To Factory I/O Through Ethernet Cable
Hardware used:

Siemens PLC S7-200 SMART CPU ST20
Ethernet cable for connecting PLC to PC

Software:

Step7 Micro/WIN SMART 2.6 (latest version)
Factory I/O 2.4
S7-200 SMART project "Sort height basic" (Sourced from factory_io sample project).
 You can download all the above software on 365EVN
Factory IO Connect To PLC S7 200 Smart
On S7 200 Smart PLC Programming Software – Step7 Micro/WIN SMART 2.6
Step 1: Download the project "Sort height basic" at the end of the post.
Step 2: Configure the CPU module, IP Address for your device by clicking "System block" on the project tree.
Step 3: Connect and download S7 200 smart project to PLC. 
On Factory I/O Software
Step 1: Open FACTORY IO Software, and create a project from the parts. In this post, we used a project from the sample. Click "Scenes" and open "Sorting by height (Basic)".
Step 2: Connect factory_I/O to S7-200 SMART PLC

Click "File" -> "Drivers" (or press F4). On the "Driver" box click and select "Siemens S7-200/300/400". And then click "Configuration".
Configure the parameters for PLC as the model (S7-200), host (PLC IP Address) …
 Back to "Driver" click "Connect" and check the connection. You can see a green tick symbol if the connection is good.

Step 3: Run the simulation and check on Step 7 MicroWIN Smart for the program to work.
For more detail on the steps, you can refer to the below video.
Guide Video To Connect PLC And Factory IO Download
If you can not watch the video above, you can watch it on my Youtube channel – Link or my video area.
Factory IO Download – Direct Link
Download Factory IO software: Link
S7-200 SMART PLC Project – Sort height basic (Source from Factory_I/O sample project): Link
Siemens S7 200 Smart PLC Programming Software – Step7 Micro/WIN SMART 2.6: Link
See you in the next posts!
-365EVN-
If you find this content valuable, please rate it (click the button above), share it with your friends or invite me for a coffee by clicking the button below.