Simatic Step 7 Professional 2021 – Step7 V5.7 is a new version of Siemens PLC Programming software for Simatic S7-300/400. With Step7 Professional 2021 (included Step 7 V5.7) you can easily install it on Windows 10 (64-bits only). Download Step 7 Professional 2021 now on 365evn.com
Step 7 Professional 2021 – Step7 V5.7 Download
You can download Step 7 Professional 2021 (included Step 7 V5.7), Options and hotfix 1 at the end of the post.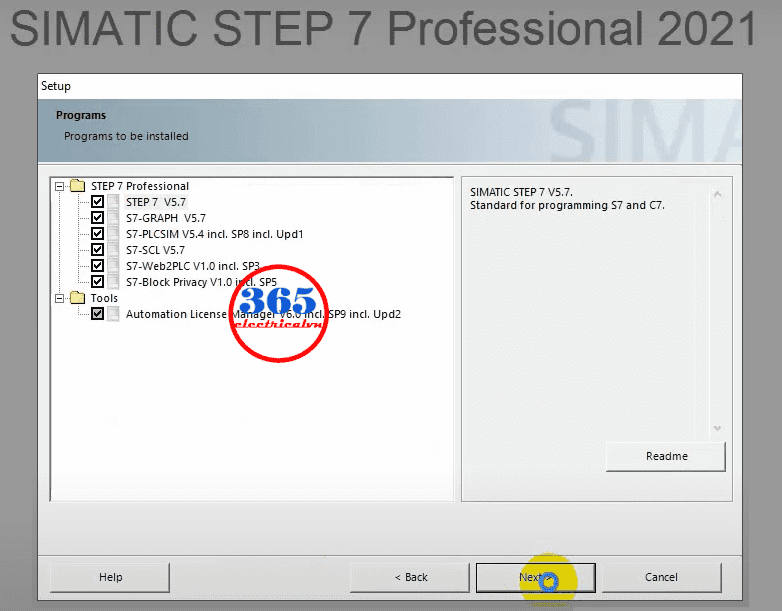 STEP 7 Professional 2021 incudes:
STEP 7 V5.7

Automation License Manager V6.0 SP9 with Update 2

S7-GRAPH V5.7 and S7-SCL V5.7

PLC Simulation S7-PLCSIM V5.4 SP8 includes Update 1

S7 Web2PLC V1.0 SP3 and S7 Block Privacy V1.0 SP5

A block protected with Block Privacy can only be loaded to the following CPUs:

S7-300 and ET 200 CPUs as of firmware version V3.2

S7-400 CPUs as of FW Version V6.0
Could be helpful for you:
Step7 Professional 2021 – Step7 v5.7 System Requirements
To install and work with the STEP 7 Professional 2021 or Simatic Step 7 V5.7, you need a suitable programming device or a suitable PC. First, your PC needs to meet the minimum requirements specified for the operating system.
Operating System – Simatic STEP7 Professional 2021 can be used with the following operating systems:

Microsoft Windows 10 Pro and Enterprise (64-bits)

Microsoft Windows Server 2016 (64-bit) (Standard Edition as work station computer)

Microsoft Windows Server 2019 (64-bit) (Standard Edition as workstation computer)

Supported virtualization platforms: You can install and work the SIMATIC STEP 7 Professional 2021 on the virtual machine:

VMware Workstation Pro v16.1

VMware Workstation Player v16.1

VMware vSphere Hypervisor ESX(i) 7.0

Microsoft Windows Server 2019 Hyper-V
Note: Step 7 Professional 2021 only supported Windows 10 x64 and some online functions can be restricted.
Memory Requirements

Hard disk memory: 2.5 GB or higher

Swap file memory, depending on the memory configuration

You should keep at least double the amount of RAM memory free on your hard disk (For example RAM memory is 1024MB you will need 2048MB hard disk space for the page file following the installation of Simatic STEP 7 Professional 2021 – Step 7 V5.7).
What are the differences between Step 7 v5.x And Step 7 On TIA Portal?
When you install Siemens TIA Portal you have Step 7 for PLC Programming also. The basic function in STEP 7 V5.x and STEP 7 TIA Portal are the same. However, Step 7 v5.x vs Step 7 TIA portal  have some differences: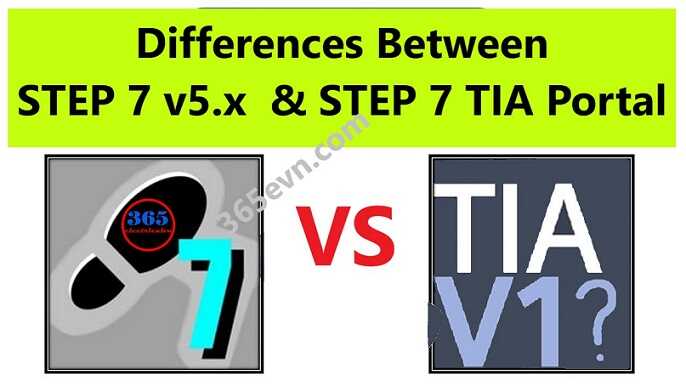 Simatic Step 7 V5.x only for Siemens PLC S7-300/400. Step 7 on the TIA portal for S7-300/400 and S7-1200/1500. Therefore, if you have a PLC of S7-1200 or S7-1500 Series you must install Step 7 with TIA Portal.
Step7 Pro on TIA Portal supported all PLC series S7-300/400/1200/1500, but not all the versions. Only the newest versions of S7-300/ S7-400 are supported. Some of the older versions of the S7-300 and S7-400 can only be handled by Step7 v5.x.
If you have a system already based on Step 7 v5.x, then Step7 V5.x is required. You can make convert from Step 7 v5.x to Step 7 TIA portal (Migrate function), but still, you need both Step 7 and Step 7 TIA versions. For more information, you can read the document below:

Guide for Migrating SIMATIC S7-300/S7-400 to SIMATIC S7-1500 and TIA Portal: Link

On Step 7 v5.x and Step 7 – TIA portal, we have simulation software PLCSIM v5.x and PLCSIM (and PLCSIM Advanced). You can refer to the previous post to see the difference between PLCSIM and PLCSIM Advanced and PLCSIM V5.x.
Download Step 7 Professional 2021 (including Step 7 V5.7) and Hotfix 1
Step7 Professional 2021 (included Step 7 V5.7) Download.
Link Hotfix 1 for Step 7 Professional 2021 and Step 7 v5.7
Options for Step 7 Professional 2021 Download
See you in the next posts!
If you find this content valuable, please rate it (click the button above), share it with your friends or invite me for a coffee by clicking the button below.