DOPSoft is Delta HMI software for DOP-100 and DOP-Handheld HMI series. DOPSoft v4.00.16 (ver.2022) is a new version of Delta Automation that provides new functions and features. Download free DOPSoft 4.00.16 – Delta HMI Software on 365evn.
DOPSoft V4.00.16 – What's new?
Dop Soft 4.00.16 with very much new functions and features:
Supported the newest model: Delta HMI DOP-107PV
The firmware version is updated to v1.0116-16 and the operating system is updated to v1.0456 (For the DOP-100 series)
New function on DOPSoft 4.00.16

Add a more friendly operation interface for DOPSoft "Ribbon bar" function.
Add the "Font Management" function to change font type settings depending on the specified screen and language.
Add the "Create Download Screen Exe. File" function that executes Online Simulation without DOPSoft.
The system menu in HMI and PLC Baud Rate to 187500.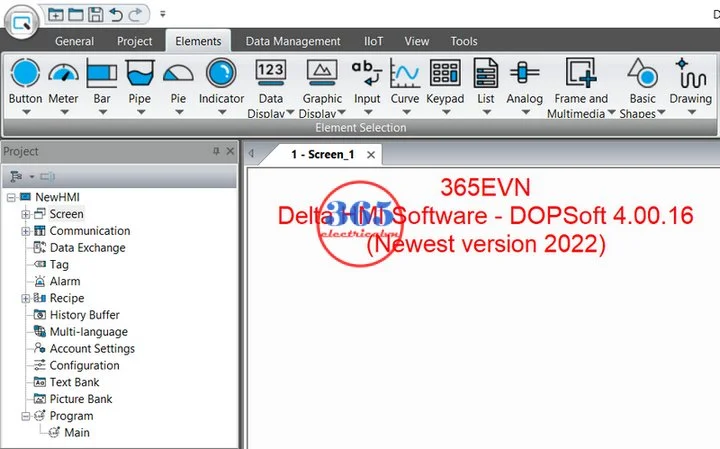 New controller

Supported the communication protocol of Modbus RTU Over TCP
Add the communication protocol of Digital Memory Link Extended
Supported the communication protocol of FANUC iSeries TCP
Add the communication protocol of Delta VFD

New IIOT function

Add DIACloud function.
Add OPCUA Server & Client function on 103WQ, 107WV, 110WS, 112/115MX and WX model.
Add MQTT and Passthrough functions supporting all brand PLC for eComm software.

For more information about the Delta HMI Software v4.00.16, you can read "DOPSoft 4.00.16 – Technical Announcement" below.
DOPSoft V4.00.16 – Delta HMI Software Download
Delta DOPSoft 4 – Operating environment
CPU: Pentium 4, 1.6 GHz or above
RAM Memory: 2 GB or above
Hard drive: 400 MB or above
Display: Full-color display with a resolution of 1024×768 or higher
Windows 7/8/10 (32 & 64-bit)
Download DOPSoft 4.00.16
Information

File type: ZIP
File size: 916 MB
Version: 4.00.16.30 (Nov 2022)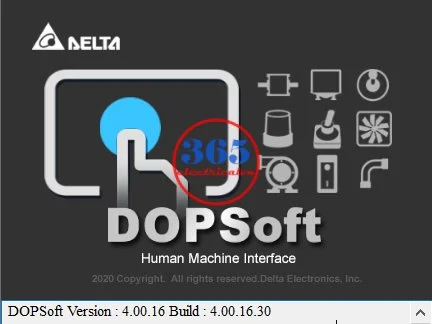 How to install Delta HMI Software

Download the file at the below link
After downloading the file(s), use WinRAR (for .zip or .rar files) to extract it to the drive.
Run the file to install the Delta HMI Software

Link download
Refer more

How to download Delta HMI Program via Ethernet Port, please read this post.
Using USB Disk to download and upload Delta HMI program.
How to simulate Delta PLC connect HMI on DOPSoft v4.0 (Without PLC, HMI): Link
-365EVN; Refer: Delta.com–
If you find this content valuable, please rate it (click the button above), share it with your friends or invite me for a coffee by clicking the button below.