WinCC Flexible Smart V4 Download Free – Siemens Smart Line HMI Software (ver.2022). The new version is powerful and fully compatible with the Siemens HMI SMART LINE V3 version. Download WinCC Flexible Smart v3, v4 on 365evn.
WinCC Flexible Smart V4 – What's new?
The latest upgraded version of WinCC Flexible Smart V4 supports the following new functions on the basis of being compatible with the original functions:
Supported the new series of Siemens Smart Line HMI V4
Support parallel communication of S7 Ethernet and serial port protocol, for standard Modbus RTU protocol equipment, and support SMART LINE as a gateway to realizing data transmission and reception.
New table control: supports displaying real-time and historical data in table form.
Brand-new diagnostic control: support displaying system diagnostic information of S7-200 SMART PLC on the screen.
New function of configuration software: support automatic extraction and import of variables from S7-200 SMART PLC project files
WINCC FLEXIBLE SMART V4 – Significantly increase the number of recipes and data records.
Fully integrated Simatic ProSave maintenance tools.
Siemens Smart Line HMI V4 on WinCC Flexible Smart 4
Siemens has keenly grasped the needs of industrial users and launched a new generation of SIMATIC wonderful series panels – SMART LINE HMI V4. Compared with V3, the brand-new SMART LINE V4 has greatly improved product performance, and the details are reproduced with care.
Two sizes of widescreen 7 inches and 10 inches, support horizontal and vertical installation
High resolution: 800×480 (7 inches), 1024×600 (10 inches), 16M colours, the display effect is more colourful and rich.
The main frequency of the CPU is upgraded from 600MHz to 800MHz, and the RAM is upgraded from 128M to 256M
The response speed is improved, which greatly shortens the start-up, button operation, value change operation and communication connection recovery time.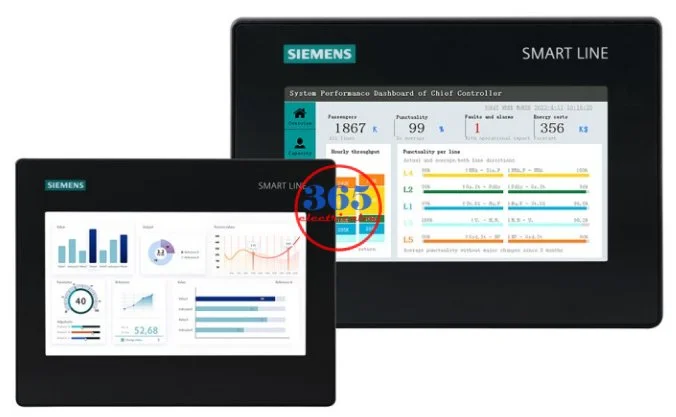 Support secure boot, prevent tampering with FW files or changing flash content, greatly improving product security
Full Plane Optical Bonding Technology
No vent design, greatly improving the adaptability in harsh environments
Increase the vertical wiring space of the communication port
The hole size is consistent with that of V3, direct replacement without changing the cabinet design.
To program Smart line HMI v4 you need to download WinCC Flexible Smart v4 below.
Install WinCC Flexible Smart v4
Download WinCC Flexible Smart v4 (below link).
Read the document before installing WinCC Flexible Smart 4 – "Readme" and "Installation guide" files.
Refer to the previous post – WinCC Flexible Smart v3 SP2 on 365evn. All guides are the same.
Refer to the video – Install WinCC Flexible Smart V3 SP2 with update 1 on Windows 10 x64 bits (Can use for WinCC Flexible Smart v4)
If you can not watch the video on Youtube, please watch it: Here
Download WinCC Flexible Smart v4
Summary
The latest version of Siemens WinCC Flexible Smart v4 with more improvements, and functions. As long as you are full of imagination, the new generation of wonderful series panel SMART LINE V4 can present you with better innovative performance.
-365EVN, Refer Siemens.com–
If you find this content valuable, please rate it (click the button above), share it with your friends or invite me for a coffee by clicking the button below.