TIA Portal v18 download is available on November 2022. TIA Portal is "Totally Integrated Automation Portal", an automation software from Siemens. It is a PLC programming software for S7-1200/1500 and S7-300/400, HMI Programming software for the Simatic panel, and SCADA software. TIA Portal 18 with more improvements, functions, and innovation. Download TIA portal v18 on 365evn.
TIA Portal v18 Download – Overview
TIA Portal v18 released with a wide variety of new functions for existing products:
TIA Portal libraries: The following functions are newly available with TIA Portal V18 libraries

Library Management Area: On TIA V18, you can use library management as a standalone editor and use it in parallel with the project editors.
Comparison of global libraries: With v18 of the TIA Portal the user has the option of comparing global libraries with each other or with the project library.
Multiuser Engineering and global libraries
TIA Portal User Management and Access Control (UMAC)
TIA Portal v18 Version Control Interface: Some new features are available in V18 of the TIA

Possibility to automatically derive the workspace structure from the project structure
Display of new files in the workspace with a proposal for transfer to the project
Exporting and importing STL blocks in source format

SIMATIC S7-PLCSIM Advanced V5.0: Some functions are newly available with S7-PLCSIM Advanced V5.0:

Supported the TIA Portal projects V14 – V18, CPU firmware versions V1.8 – V3.0.
S7-PLCSIM Advanced V5.0 supports reading and writing of the STRING data type.
Supported the new CPUs S7-1514 SP/T/TF

v5 of the S7-PLCSIM Advanced supported the NTP time synchronization.
Testing of the backup and restore functions possible via the S7-1500 web server
Data logs and recipes can be read and written
You can read all information about Siemens TIA Portal ver.18 on "TIA Portal v18 Highlights" in the previous post.
TIA Portal v18 System requirements
The Siemens automation recommended the hardware and software to install and use the TIA Portal download v18 as below:
Processor (CPU): Intel® Core™ i5-8400H (2.5 GHz up to 4.2 GHz)
Memory: Minimum 8 GB. Recommended 16 GB or 32 GB for large projects.
Hard disk: Minimum of 50 GB free storage space of the Solid State Drive (SSD)
Network 1 Gbit (for multi-user)
Monitor: Size 15.6″ Full HD Display (1920 x 1080 or more)
TIA Portal ver.18 system requirements – Operating system (OS)

Windows 10 64-bit Home Version 21H1/21H2 (Only for Basic editions)
Windows 10 64-bit Professional Version 21H1/21H2
Windows 10 64-bit Enterprise Version 2009/20H2/21H1/21H2/
Windows 10 64-bit Enterprise LTSC 2016/2019/2021

Windows 11 (64-bit) Home/Pro/Enterprise Version 21H2
Windows Server (64-bit): Version 2016/2019/2022 Standard (full installation)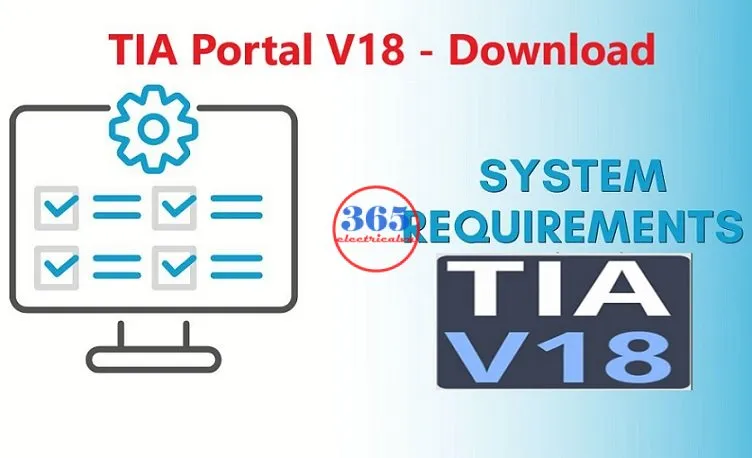 TIA Portal 18 Supported virtualization platforms

VMware vSphere Hypervisor (ESXi) 6.7 or higher
VMware Workstation 12.5.5 (only WinCC)
VMware Workstation 15.5.0 or higher
VMware Player 12.5.5 (only WinCC)
VMware Player 15.5.0 or higher
Microsoft Hyper-V Server 2019 or higher

Compatibility with other products and operating systems

Projects as of TIA Portal V13 SP1 can be upgraded directly to V18. Upgrading of projects from previous project versions (V11 – V13) is carried out on the basis of the TIA Portal products (e.g. STEP 7) used in the project in version V13 SP1 or V13 SP2 (latest update recommended).
Projects created with TIA Portal V13 SP1 to V17 are upgraded with TIA Portal V18. If you need to edit a TIA Portal project ver. V13 SP1 to V17, we recommend an additional installation of the corresponding software for TIA Portal V18.
Hardware configuration and program code from STEP 7 V5.4 SP5 or higher can be migrated directly to a TIA Portal V18 project with STEP 7 V18.
TIA Portal v18 Download, Installation guide
Download the install source of the TIA Portal v18 (link below)
Read the "Installation note" and "Readme" files before installing Step 7 v18 and WinCC v18
Follow the guide to install the TIA portal ver.18
TIA Portal Download V18 – Video
If you can not watch the video on Youtube, please watch it: Here
TIA Portal Download V18
Information

File type: Torrent (full installation) and ISO (Pro version)
File size: N/A
Version: ver.18 (Nov 2022)
Link Google Drive
TIA Portal v18 Download – Fast Link
Full TIA portal (Simatic Step7 v18, Simatic WINCC v18, Sinamics Start drive, Motion Control…). Using "uTorrent software" to download the torrent file (*.torrent): Link
TIA Portal v18 Pro includes Step 7 (PLC Programming software) and WinCC (HMI Programming software). It used the most popular: Link
Older version – TIA Portal v16, v17, v15.1…: Link
Summary
TIA Portal v18 download – the latest version 2022 with more improvements, functions, and innovation. Download TIA portal v18 on 365evn.
-365EVN-
If you find this content valuable, please rate it (click the button above), share it with your friends or invite me for a coffee by clicking the button below.